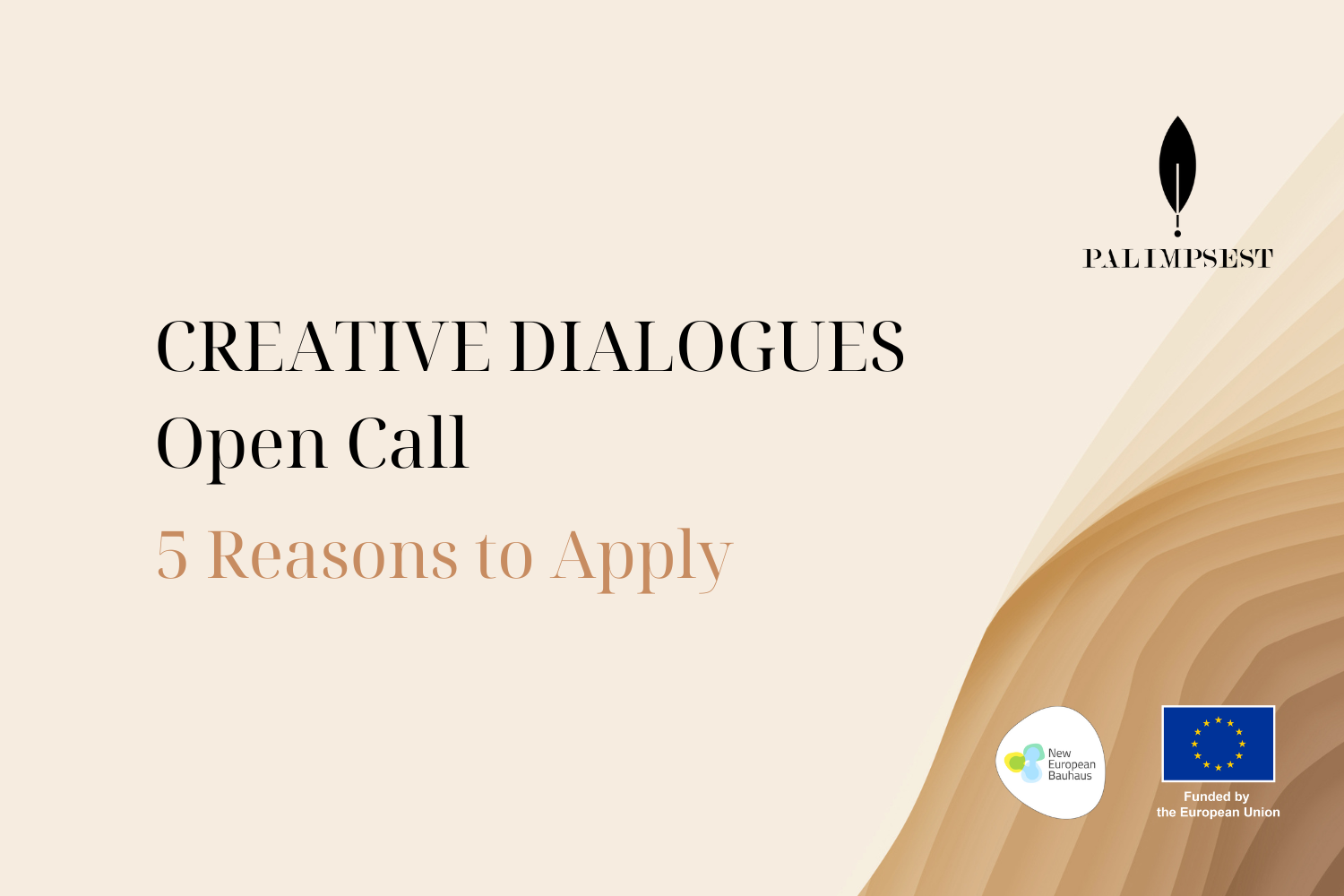 PALIMPSEST open call offers a unique opportunity for artists, designers, creators, and innovators to participate in a collaborative and creative project that spans across various disciplines and media.
Here are five compelling reasons to apply to PALIMPSEST open call:
Interdisciplinary Collaboration

PALIMPSEST encourages collaboration among artists (writers, musicians, photographers, videomakers, performers, conceptual artists, etc.) and creators from diverse backgrounds (architects, designers, landscape architects, etc.). By participating in this open call, you'll have the chance to work with individuals who bring different perspectives and skills to the table. This interdisciplinary approach can lead to innovative and unexpected outcomes, enriching your own creative process.

Creative Exploration

PALIMPSEST embraces experimentation and encourages participants to push the boundaries of their creativity. Whether you're an established artist or an emerging talent, this open call provides a platform for you to explore new ideas, mediums, and concepts. It's an opportunity to take risks and see where your creativity can take you.

Conceptual Depth

PALIMPSEST typically revolves around thought-provoking themes or concepts that challenge participants to delve into complex issues or ideas. This depth of exploration can lead to meaningful and impactful artistic creations. It's a chance to engage with critical topics and express your thoughts and perspectives through your work.

Direct Engagement with Landscapes and Communities

PALIMPSEST encourages creative agents to work directly in and with landscapes and engage with the communities that inhabit them. This hands-on approach allows you to connect with real-world challenges and develop solutions that resonate with local needs and values. The project emphasizes a collaborative process of co-generation and co-production. Working with a diverse team of experts and community members, you'll have the chance to co-create sustainable practices and solutions, fostering a culture of collaboration and knowledge sharing.

Address Climate and Environmental Challenges

PALIMPSEST focuses on landscapes threatened by climate and environmental challenges. By participating in the project, you can make a meaningful contribution to addressing urgent issues related to sustainability, resilience, and environmental conservation.
In addition, participating in PALIMPSEST can lead to valuable networking opportunities. You'll have the chance to connect with fellow artists, curators, and professionals engaged in a common reflection on the role of creative agents in contributing to envisioning a sustainable future for our landscapes.
In summary, PALIMPSEST offers a platform for creative minds to engage in a transformative journey, collaborate on sustainable solutions, work directly with landscapes and communities, experiment across disciplines, and make a positive impact on landscapes facing environmental challenges. If you're passionate about using your creative skills to address pressing environmental issues, this project provides a unique opportunity to do so.
The Open Call is due on the 18th of September 2023 at 12:00 p.m. CET so don't lose time! Apply now!
Published on: September 14, 2023
Read some of our Latest News