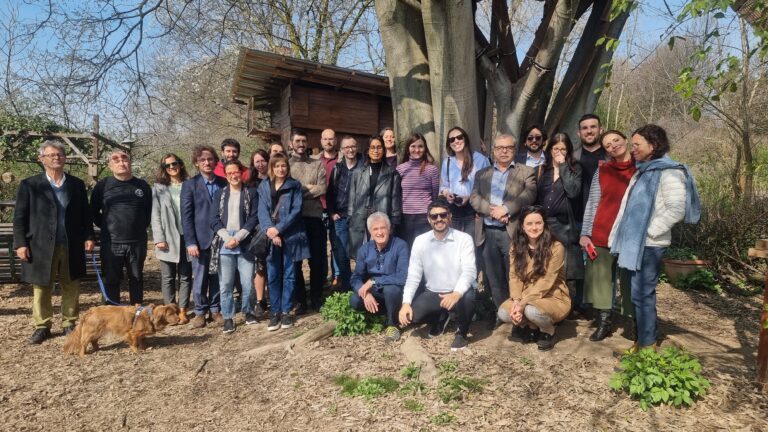 PALIMPSEST project held its official kick-off meeting on 22-23 March 2023 in Milan, Italy. Coordinated by the Politecnico di Milano, the PALIMPSEST consortium includes 24 organisations from 11 European Countries. The project runs from 1 March 2023 to 28 February 2026 and has a budget of € 3M.
Inspired by the original meaning of the Greek word παλίμψηστος (palimpsestos), PALIMPSEST adopts a re-writing perspective and grounds it on a living heritage approach. Through co-creation processes involving creative actors, technical stakeholders, and civic society, PALIMPSEST aims to imagine new scenarios and experiment with innovative practices connecting human actions, landscape heritage, and sustainability objectives. PALIMPSEST will integrate landscape services in environmental-sensitive solutions with sustainable finance infrastructures to support the sharing and circulating of positive externalities among landscape service actors and communities. PALIMPSEST revolves around three pilots with strong cultural identities and relevant environmental problems: Lodz (PL), Milan (IT), and Jerez de la Frontera (ES).
On the 24th of March, HeriTACT and PALIMPSEST joined forces for a public kick-off event in Milan about how to better experience living heritage in Europe. The event, jointly organised by the PALIMPSEST and HeriTACT Projects within the framework of the New European Bauhaus, aimed to analyse the role of architecture and artistic practices in living heritage transformation processes.
PALIMPSEST project coordinator, Professor Grazia Consilio, said, "We are excited to kick-off this project and bring together experts from across Europe to work towards regenerating sustainable heritage landscapes. We hope to use creative and innovative approaches to address some of the challenges faced by cultural landscapes in Europe and to empower local communities to take action towards a sustainable future."
With PALIMPSEST's focus on regeneration, the project aims to provide a roadmap for sustainable development in cultural landscapes, while also preserving their unique identities and cultural heritage. The PALIMPSEST project looks set to make a significant contribution to Europe's cultural and environmental landscape, and the kick-off meeting marks an important step in this journey.
Published on: June 29, 2023
Read some of our Latest News