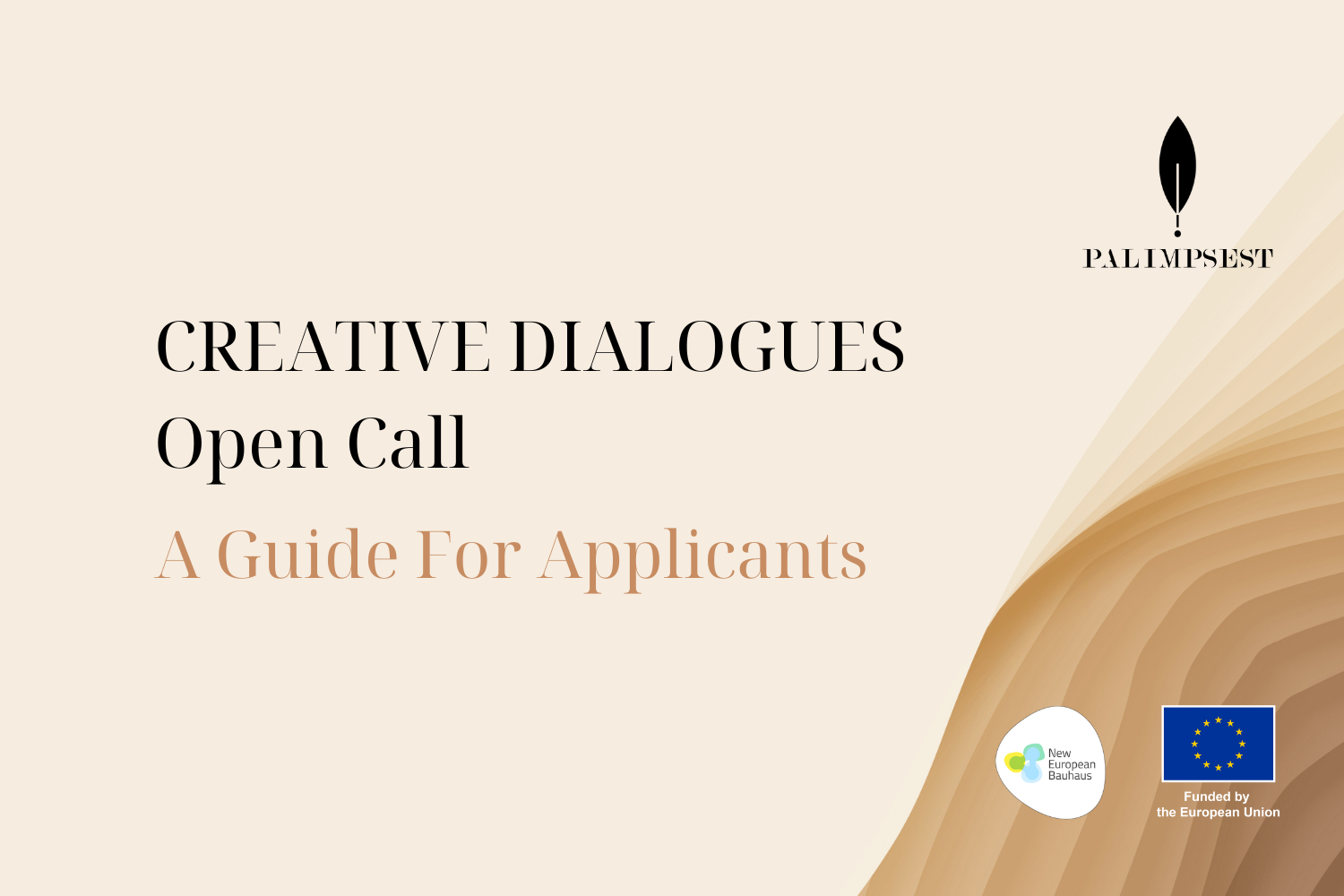 At PALIMPSEST, we are thrilled by the overwhelming interest in our call for creative minds worldwide. Artists, creators, and professionals from diverse fields are eagerly seeking information about the application process, expectations, and the journey that awaits those selected. To provide clarity, here's a comprehensive guide to address your inquiries.
Who Can Apply?
Our application is open to all imaginative individuals working in any creative field, including conceptual artists, musicians, photographers, performers, visual artists, video-makers, digital creators, designers, landscape architects, and architects. Whether as a solo applicant or part of a multidisciplinary team, anyone inspired by our call is welcome to participate.
What Do We Expect from You in Response to the Call?
For the initial selection stage (deadline: September 18th), we invite you to submit an idea for a project in one of our three pilot landscapes. Share your vision for the project and outline how you plan to execute it, including your material, logistical, and community engagement needs. Our application form is designed to assist you in responding to these questions and requires a manageable effort.
Access the application form HERE.
Investment in the Pilot Landscapes
Apart from the grant and residency expenses, each pilot landscape boasts a budget (approximately 40,000 Euros per pilot) designated for prototyping and testing the outcomes of the residential workshops. These resources, managed by the PALIMPSEST consortium, will be made available to fund the realization of various project formats (e.g. such as exhibitions, performances, conceptual works, product prototypes, installations, etc.).
What to Expect if You're Shortlisted for the Dialogue Meetings?
Shortlisted candidates will have the opportunity to meet the PALIMPSEST research team and explore the three pilot landscapes during the Creative Dialogues meetings in October and November 2023. You'll introduce your concept and working approach and explain how it aligns with PALIMPSEST's experimental work and local ecosystems. These meetings will also address material requirements, logistics, and budgets for refining and implementing your idea.
Following the meetings, each team will receive a report with feedback, suggestions, and vital information to enhance their final proposal. A designated tutor will guide each team throughout the dialogues.
What to Expect if You Win?
As the winner, you'll join the PALIMPSEST team. You'll sign a contract specifying grant disbursement details and your commitment, which includes participation in two residential workshops (one week each in spring/summer 2024 and 2025), prototyping events, and PALIMPSEST research reflection sessions.
Shortly after the awarding, we'll collaboratively plan the first residential workshop. Dates for each residency are available in the call announcement which you can be downloaded HERE. These workshops will involve individual work, meetings with the PALIMPSEST team, and engagement with local stakeholders. Each week will conclude with a presentation and discussion of the outcomes, organized by our local partners.
After the residential week, you'll engage in periodic online meetings (approximately every two months) to collectively steer our shared journey of exploration and reflection.
Join us in the PALIMPSEST adventure, where your creativity can shape the future of these unique landscapes!
Published on: September 7, 2023
Read some of our Latest News